Wednesday, November 5th, 2008
We at Bunny.nu are just so honored! Rabbit's Guy at A Houseful of Rabbits has given us the Blogging Friends Forever Award!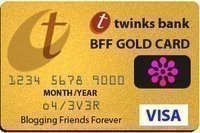 The rules of the BFF award are the following:
Only five people are allowed
Four have to be dedicated followers of your blog
One has to be someone new or recently new to your blog and live in another part of the world
You must link back to whoever gave you the award.
We actually have problems fidning four dedicated followers of our blog, but at least we have no problem finding recently new followers living in other parts of the world!
We will start by passing the award on to:
Gabriella at Bunnies, needles and books
We have to come up with some more. I know Pirjo has been here, but I do not know if she has a blog to link to. If there are any lurkers out there that consider themselves dedicated followers of our blog, please leave a comment!