Bunday flop
Monday Bunday, and Diesel demonstrates at Disapproving Rabbits how to do the dead bunny flop to avoid Monday.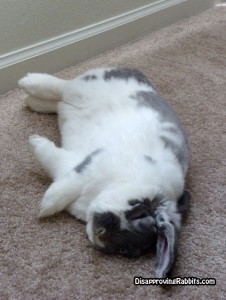 3 Responses to "Bunday flop"
Christina Says:
May 9th, 2011 at 5:02 pm

But he finds it best to have one ear alert should there happen to come some interesting sounds from the kitchen!

Mats Says:
May 9th, 2011 at 7:07 pm

Yes, there might be sounds of treats!

the bunns Says:
May 11th, 2011 at 3:55 am

Diesel has it down perfect!
Leave a Reply