Adorable snugglers!
Betsy and Gus at The Life and Times of Bunnies are snuggling together. They look adorable!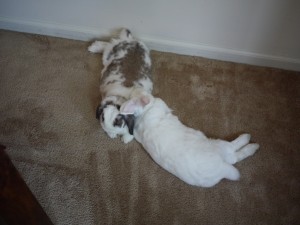 3 Responses to "Adorable snugglers!"
Christina Says:
June 28th, 2012 at 10:32 am

Gus is using Betsy as pillow, that really looks so cute!

Mats Says:
June 28th, 2012 at 7:03 pm

Betsy does not seem to mind very much either!

the bunns Says:
June 29th, 2012 at 4:07 am

We asked Gus where we could get a pillow like that!
Leave a Reply