Snugglebuns
Betsy and Gus are real snugglebuns! So cute!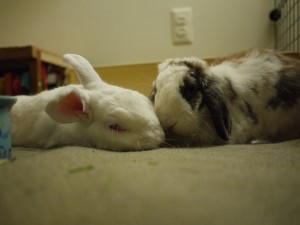 3 Responses to "Snugglebuns"
Christina Says:
April 6th, 2013 at 5:43 pm

Aaaawww – they look so cute and comfy! I wish I had a snugglebun, I really need one right now (having a really bad toothache!)

Mats Says:
April 6th, 2013 at 6:13 pm

Poor Christina! I hope the toothache goes away soon!

the bunns Says:
April 8th, 2013 at 3:51 am

Get better quick! Gus and Betsy are a pair!
Leave a Reply