Archive for June, 2009
Friday, June 19th, 2009
Midsummer is a time of celebration in Sweden. The Saturday closest to the summer solstice is the official holiday Midsummer's Day, and the day before, Midsummer's Eve (today!), is for most people a day free from work. Midsummer's Eve is a day of outdoor partying and traditional activities like raising a maypole and dancing around it. In lieu of bunnies dancing in a ring, I found a picture of two cuties in the green green grass of Summer!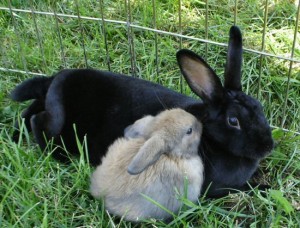 Monday, June 1st, 2009
Did you see BooBoo at Disapproving Rabbits some days ago? What a little furry cutie!